PARAGLIDING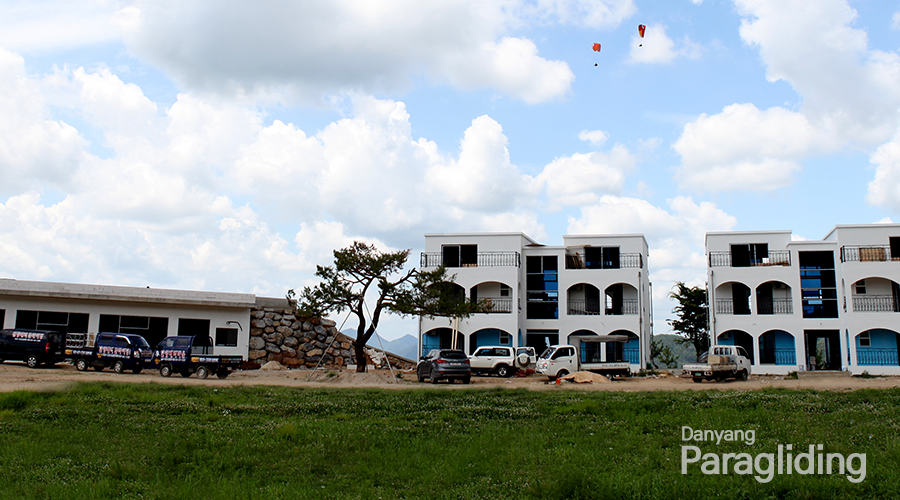 Tanderm Flight
(Tanderm Paragliding)

in Danyang
1. Experience in Danyang with beautiful scenery

- You will meet the best paragliding team over the most peaceful scenery

2. Escape from daily routine life

- Get a chance to escape and feel the freedom of flying through the sky

3. Unforgettable excitement!

- The moment you land on the earth after flight, you will realize that you have just made another unforgettable memory.
*Inquiries / reservation : 043-421-3326

* If you have any inquiries, please contact only by e-mail. we'll reply within 24 hours.
bytaracom@naver.com
- The basic course : 110,000\ (not including video)

the basic course is for enjoying the scenery without tension.
(video recording 22,000\)

- Art course : 130,000\ (not including video)

The Art course is fun and thrilling flight. You can enjoy paragliding techniques.
(video recording 22,000\)

- VIP course : 200,000\ (including Filming video)

The VIP course is a basic course+art course+self-controlled flight experience.
The experience time is 15-20 minutes, unlike other courses.
Policy and Fees
1. Optional

- Filming during paragliding is available and the price is 20,000 won. You can select it as an option on the payment page or you can purchase this option onsite (prices can change onsite).
- We have been providing free pick-up service for your convenience. Pick-up location : Danyang Intercity Bus Terminal Please contact 30 minutes before your arrival and the driver from Danyang Paragliding will assist you. More than two people are free for pick up but if you are the only one and wish for pick-up service, there will be a fee of 10,000won.
(It usually costs about 15,000won from Danyang Intercity Bus Terminal to Danyang Paragliding by taxi.)

We will send you guide via text message with the contact information and a driver when you apply for pick-up service.

2. An insurance policy will be given for all participants. If an accident occurs due to participant's negligence, we can not be responsible for it.

Please follow the instructor's direction.
Directions
1. Departure from Seoul

- Bus : Dong Seoul Terminal - Danyang Intercity Bus Terminal - Pick-up service (12 times a day. It takes 2h 30m.)
- Train : Cheongryangri Station - Danyang Station
- Dong Seoul Terminal is very close to Gangbyeon Station (Subway line 2 #214)

2. Departure from Daegu

- Daegu Bukbu Intercity Bus Terminal - Danyang Intercity Bus Terminal - Pick-up service (It takes 3h 50m.)

3. Departure from Busan

- Train : Bujeon, Dongrae, Haeundae Station - Danyang Station (It takes from 4h 38m to 5h 16m)
- Bus : Busan Central Bus Terminal - Danyang Intercity Bus Terminal - Pick-up service (It takes 6 hours.)
Company info

CompanyDanyang Paragliding

AddressSapeong-ri 246-6, Gagok-myeon, Danyang-gun, Chungbuk

Siteparavillage.com

Contact number +81) 043-421-3326 KAKAO TALK>
Nearby Tourist Spots
1. The world of Taiost Hermit you can reach, 'Sangseonam'

- Lots of small rocks that remind you of simple and heartwarming Korean neighbors

2. Casting a clear shadow on the blue waterway, 'Dodamsambong'

- The peak of the world which rises in the middle of flowing blue river, 'Dodamsambong'

3. Another view in the beautiful scenery, 'Stone Gate'

- After passing the observatory of Dodamsambong, you can find a rainbow shaped stone gate.

4. One tortoise fallen in the beautiful scenery, 'Gudambong'

- The rocks on the precipitous cliffs resemble a tortoise.

5. Namcheon Stream where a natural forest is well preserved

- The water is clear and visitors are rare so a natural forest is well preserved.

6. Sadong Valley where the clear and cool water of valley flows

- The water of the valley coming from Dosolbong and Myojeokbong of Sobaek Mt. flows to Jangjeong Village.

7 Gosu Cave

- 1,700m natural cave where you can feel the mystery of ancient times For more information about Danyang, go to
http://english.dy21.net/enlglish/